Member Resources
Resources for managing and getting the most out of chamber membership.
Member Business Directory
The member business directory allows the public to search and find businesses that are members of the Banner Chamber of Commerce. Having a fully developed profile will help you get found not only from the chamber website, but also via search engines, social media and your website. Within your profile, you can post links to all of your social media accounts, website and even embed Youtube videos to further promote your business. Your directory profile is built to be search engine friendly which can increase your visibility on search engines. Plus, a link back to your website means visitors can get directed right to your home on the web. Visitors can also contact you directly via your directory profile.
Other members can network and ask to connect with you via your directory profile. This feature is only available to other chamber members.
Connecting is easy. Login to your member account and then browse the member business directory to find other members which whom you want to connect. Click the "connect" button which will send them a connection request. If they accept the connection request, you can then privately message each other, share contact information and build a mutually beneficial relationship. if someone wants to connect with you, their request will be pending until you decline or accept their request. Pending requests can be found on your member dashboard.
We've put together and easy to follow PDF instruction guide and video walkthrough on how to update your profile.
Job Board
Looking to hire new employees? The Banner Chamber's job board allows the public to browse your job openings and you can add links to another website to apply or instruct candidates to contact you through your directory profile. Only chamber members can post jobs.
Event Calendar
Planning to host a virtual or event at your physical location? The Banner Chamber event calendar is a great way to further promote your event. Posting an event is simply and is open to the public to browse. Only chamber members can post events.
Advertise
Want to further boost your online presence? The Chamber offers additional advertising opportunities via the top and side banner ads you see. Advertising options start at $25 and allow you to link to your own website, landing page or your directory profile. Only chamber members can advertise. Visit our advertising page for more information.
Refer Members and Earn

Know other businesses than can benefit from chamber membership? Refer them and get credits that can be used toward your membership renewal and advertising opportunities. We offer a generous referral program where you'll earn 25% in credits for each new member you refer. Refer 4 members and your next year of membership is on us! It's simple to refer members. All you need to do is share your referral link with them. Your referral link can be found in your member dashboard.


Show your affiliation with the Banner Chamber of Commerce

Being associated with a chamber of commerce adds credibility to your business and increases trust by current and potential customers. Membership gives you the non exclusive license to promote your affiliation with the Banner Chamber of Commerce. Post our membership logo on your website, announce your membership status via social media or even send a press release announcing your membership. As long as your membership status remains in good standing, you can continue promoting your affiliation.
Have your webmaster place a logo on your website or share via social media with a link back to BannerChamber.com. Include your referral link to get credited for referrals! Here are several images you can use to show your chamber membership:
Banner Chamber of Commerce
Proud Member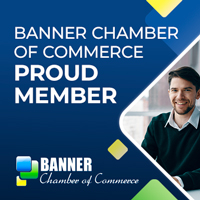 Become a Member of Banner Chamber of Commerce
Build, Promote, Grow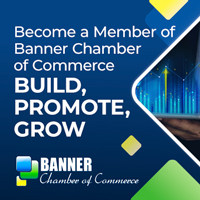 Build, Promote, Grow with
Banner Chamber of Commerce Membership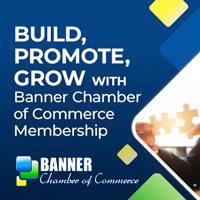 Member Discounts & Coupons
Member discounts can be found by browsing and searching the membership directory. If a member has a discount available, it will show on their business directory profile page. You can add your own member discount by editing your directory profile.